Youth Programmes Jan-June 2017
South Asia Youth Environment Network (SAYEN)
SAYEN initiatives during the year focussed on engaging youth in sustainability action on their campuses and in the community, and fostering new and strengthening on-going partnerships. SAYEN was recognized as the National Focal Point for the Young Reporters for the Environment (YRE) initiative of the Foundation for Environmental Education (FEE). SAYEN Secretariat supported the youth events organized at Indian Institute of Technology (IIT) Kharagpur, (IIT) Mumbai and Birla Institute of Technology (BITS) Goa where guidelines on organizing of events sustainably were shared with the institutes. SAYEN participated in the event organized at IIT Kharagpur in March 2017. CEE continues to receive interns and the SAYEN Secretariat facilitates the process of placement of interns within CEE.
Digital Payment Campaigns held on National Youth Day, January 2017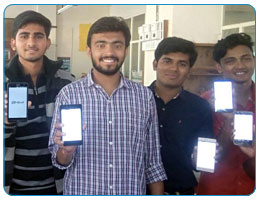 In a transformative attempt to weed out black money and corruption from public life, the Government of India has constituted a Committee of Officers to enable 100 per cent conversion of Government – Citizen Transactions to the digital platform. To take a speedy leap towards cashless society, Central Ministries, Regulators, State Governments, District Administration,Local Bodies, Trade and Industry Associations etc. are rapidly promoting adoption of digital payment systems. This year, our Hon'ble Prime Minister has requested the youth to take the lead and run campaigns for creating awareness on cashless transactions. CEE and SAYEN contributed to the call by the Ministry of Environment, Forest & Climate Change and organized hands-on presentations on cashless transactions on newly launched UPI (Unified Payment Interface) and BHIM (Bharat Interface for Money) App in 18 cities of India. SAYEN took the initiative of spreading the message across colleges in India. A total of 2620 youth, students, teachers, staff, farmers and community group members were collectively trained during this initiative. The team continues to get updates and feedback from youth volunteers who have taken charge to continue these drives in their communities
My Zero Waste Month
By, Lena Lukow, Intern at SAYEN
I was born and raised in Germany, a place where people produce a lot of waste, but no one really cares because no one can really sees it. We throw our waste in the dustbin and then we stop thinking about it, because it gets taken care of. So before coming to India I never really thought much about waste. I knew about the danger of plastic in the oceans and I disliked seeing things in the supermarket being packed wastefully. But that was it. I doubt, that there is more waste produced in India than in Germany, but it's just so much more visible. So I decided to produce no waste for a month –
"My Waste Free February". Yes, February is the shortest of all month, but I choose it coincidentally, I swear! more...
Spot fixing – Youth addressing cleanliness issues in the city, February 2017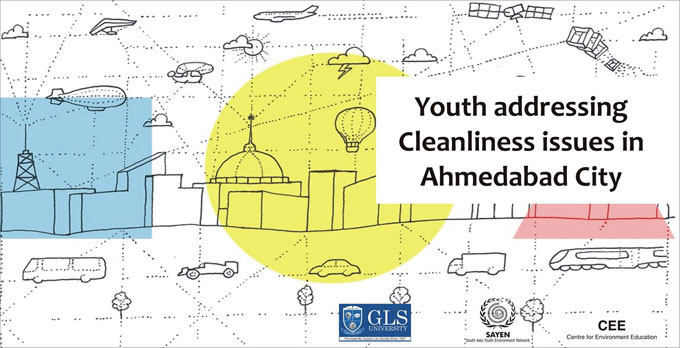 Youth from J.P Shah Institute Of Business Administration, Gujarat Law Society (GLS) University adopted public spaces like tea stalls, vegetable vendors and cobblers as-well-as residential areas and implemented innovative ideas to keep these spaces clean. 22 spots in the city were identified and fixed. The youth took ownership of the public spaces and got down to fix unclean streets as opposed to labeling and complaining. And the results are visible for everyone to see. Their efforts were posted on the SAYEN Facebook page which received much appreciation.
India Environment Festival - Be Waste Positive
World Around You (WAY) put forward a one-of-a-kind festival instilling the concept of 'being waste positive'. The first edition of India Environment Festival was held in Ahmedabad from 24th – 26th February, 2017. WAY is one of the few organizations that are exclusively working for sustainable living through the medium of environment communication. The inaugural panel consisted of Shri Mukesh Kumar, IAS (Ahmedabad Municipal Corporation) as the Chief Guest and as Guests of Honour were Shri Kartikeya Sarabhai, Shri Piyush Desai (Chairman Waghbakri), and Shri. Sunil Parekh (Global Shapers Community). Shri Kartikeya Sarabhai shared his views on restoring the dignity of labor. On this Shri Mukesh Kumar added the importance of "Ownership", and how each one of us needs to take responsibility of keeping our city clean.  He also shared his vision of making Ahmedabad a Zero-Waste City by the year 2030.

CEE being the supporting organization for the festival, co-organized a panel discussion on "Pirana – Whose Responsibility?" Mr. Prashant Pandya, Deputy Director, Solid Waste Management, Ahmedabad Municipal Corporation, Mr. Suneet Dabke, from Concept Biotech, Ms. Yamini Dave from SEWA, Prof. Mona Iyer from Centre for Environmental Planning and Technology and Mr. Shailendra Jaisawal from Geocycle, participated as panelists, bringing attention to the grave situation arising out of the Pirana landfill, need for reduction of waste and improvement in waste management and the need for people's education for enhanced participation.
Young Reporters for Environment - India
Young Reporters for Environment National Operators Meet, February, 2017
CEE as a member country of the Foundation for Environmental Education is implementing two programmes in the country. Eco-Schools Programme for school children and YRE for youth in India. The National Operators Meet for YRE was held in Portugal in February, 2017 and Sagar Suri – Programme Officer, Youth Programmes at CEE represented the Centre as the National Operator at the Meet. Part of the agenda was to extend the age limit from 21 to 25 to be able to include University students in the programme and CEE was able to successfully lobby and increase the age limit to 25.
YRE Litter Less Campaign Teachers Training Workshop, April, 2017
YRE Litter Less Campaign is an awareness campaign focusing on waste management issues, using the same methodology of using Environmental Journalism as a skill for Youth to explore their surroundings, identify problems and find solutions and share them with the wider community through journalistic pieces, either written reports, photographs or videos. As part of this Programme, a Teachers Training Workshop was organized in Lucknow on 27th April, 2017. The workshop will now be followed up by another capacity building and networking workshop, which will also see participation from students, thereafter the schools will start implementing the programme, which will conclude with an award ceremony in November, 2017.
World Wetlands Day – 2 February 2017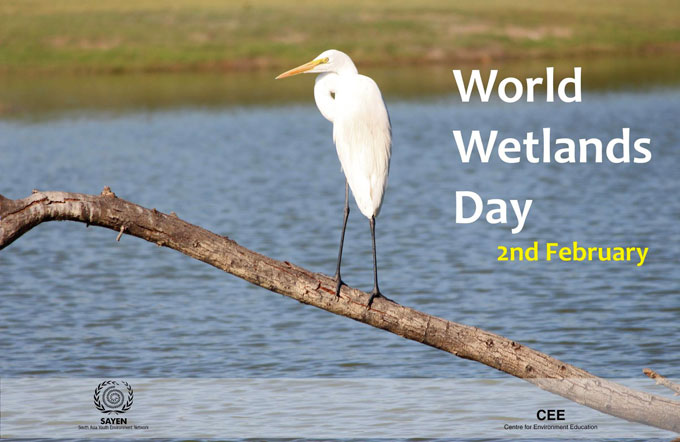 Forty-four years ago on February 2, 1971, on the Caspian Sea, a group of world leaders gathered to set forth a framework for international cooperation to conserve the world's wetlands. This day, World Wetlands Day, is a significant reminder of the boundless value of wetlands. In fact, globally, wetlands are considered the most biologically diverse ecosystems. The theme for the World Wetlands' Day this year will be "disaster risk reduction."
Let's pledge to protect our wetlands!
Green Valentines, 14 February 2017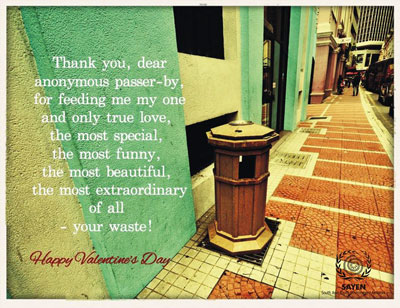 We sent a valentine wish card to all those who handle their waste responsibly!
Thank you, dear anonymous passer-by,

for feeding me my one and only true love, the most special, the most funny, the most beautiful, the most extraordinary of all 

- your waste!
World Wildlife Day - Celebrating Wilderness 3rd March 2017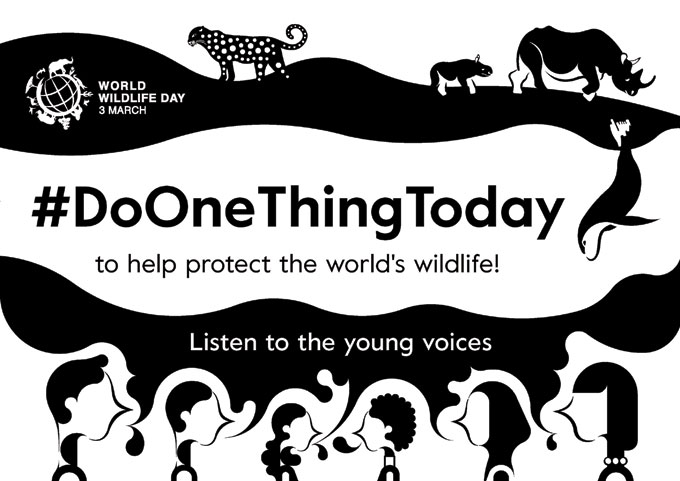 We celebrated the World Wildlife Day asking young people what is the "One Thing" they would do to protect the wildlife.
Trash-way Relay – Waste Management Game
Happy Streets', an event organised by the Times of India encourages people to socialize every Sunday morning during vacations through a wide array of activities. Making use of the energetic atmosphere, our interns at SAYEN decided to talk about waste management with the help of a game.
We played Trash-way Relay at the Happy Streets. The game consisted of two teams and each of them was given some placards having pictures of waste. Three dustbins; Organic, Hazardous and Recyclable/ Reusable were kept, in which the members had to throw the waste according to segregation rules. It was like a relay race where the members had to go one-by-one to the bins. Whichever team completed the earliest with least mistakes was declared the winner!
The game was hugely appreciated especially by parents who brought in their children to play the game and so our interns went there twice. We distributed handmade bookmarks to the winners!
World Environment Day 2017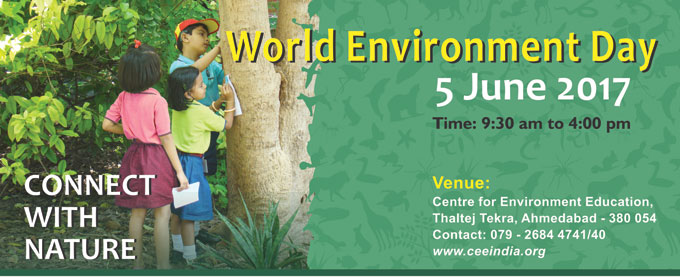 On 5th June, we "reconnected with nature" through various activities at the Centre for Environment Education, Ahmedabad. While India's Prime Minister Shri Narendra Modi cited the clean-up as inspiration for a massive overhaul of India's waste management system, our SAYEN interns spread awareness about segregation through our fun games and activities during the celebrations at the centre.